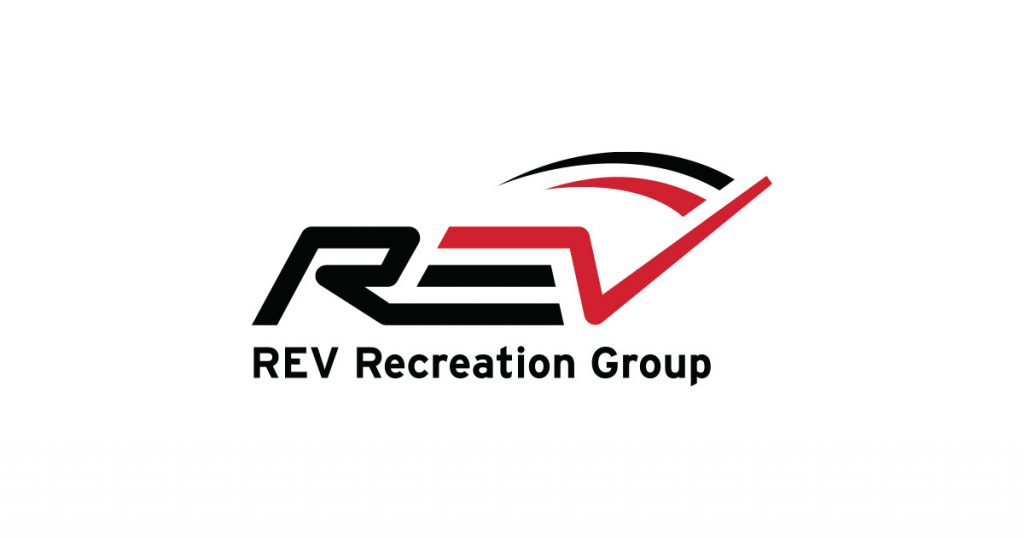 In spite of unseasonable cool and sometimes wet weather,  the return of the Dealer Open House in Elkhart, IN, last week brought with it strong dealer demand and enthusiasm for new and updated 2023 Class A, Class B, Super C and towable units from REV Group's American Coach®, Fleetwood RV®, Holiday Rambler®, Renegade RV™, Midwest Automotive Designs™, and Lance® brands.
REV Recreation Group brands combined to showcase more than 60 models at Open House, building on dealer and customer enthusiasm generated at the recent America's Largest RV Show in Hershey, PA.
"It was great for our entire team to be back in Elkhart and to welcome our amazing dealers to the REV Recreation Group display," said Mike Lanciotti, President of REV Recreation Segment. "REV Recreation Group is built on a fantastic line-up of iconic brands, and to showcase those brands as a family to our dealer partners is important. We saw incredible dealer response and excitement across all our brands and products, and especially for the new models including the Lance Enduro™ and the Fleetwood Frontier® GTX. A successful week at Open House provides us outstanding momentum heading into 2023."
New products on display at the Open House included the brand-new Fleetwood RV Frontier GTX Class A Diesel luxury motorhome that features an industry-first dedicated office via its 37RT floorplan. The 37RT's optional The Corner Office™ has been designed to deliver the space, technology, convenience, and privacy needed by those working or learning from the road, all while strategically located at the rear of the coach so it's away from daily life activities. The space is cleverly arranged and includes an L-shaped desk with a built-in monitor and multiple nearby outlets, while a large window tops the desk to bring in natural light and deliver a view of the outdoors.
The Frontier® GTX 39TA floor plan offers its own set of well-thought-out features, starting with both slide-outs being located on the driver's side, meaning the passenger side of the coach is completely free for outside patio entertaining under the RV's large awning and its luggage bays are easily accessible.
In addition, the 39TA offers the much-sought-after 1-½ bath configuration. The full bath is located mid-ship – providing family members and guests easy access – with a half-bath situated in the rear of the coach off the master bedroom. The master suite also features a "north/south" queen bed positioned in the center of the room, allowing ample space to walk around on both sides.
Additional lass A Gas products on display at the Dealer Open House included the Fleetwood RV Flex® and Flair® 33B6, as well as the brand-new Holiday Rambler Eclipse®, which features a striking, distinctive exterior design and three distinct floorplans.
"It's hard to describe how much we missed being able to showcase our full line of Class A motorhomes to our dealers and suppliers," said Don Gephart, Marketing Manager for Fleetwood RV. "The new Frontier GTX is a product our dealers and customers have been asking for since the launch of the Frontier – and we are confident we delivered an innovative product that RVers are going to love. The 37RT floorplan in particular with its optional office will fit all types – whether they're homeschoolers, day traders or remote workers. It's a product unlike anything else on the market, and it was great to showcase it to dealers in Elkhart."
Renegade RV showcased its 2023 Valencia® Super C Diesel, available in four floorplans and offering a number of high-end interior features, including solid-surface countertops, glass tile backsplash, full-length wardrobe and optional theater seating.
Lance Camper made a splash with the debut of its Enduro™ overland concept unit. Designed for off-grid camping and the active outdoors person, the Enduro features a beautiful, modern and functional interior with a wet bath and u-shaped dinette with kids bunks, as well as a state-of-the-art exterior kitchen and available bike and firewood racks. The Enduro also features solar battery technology and onboard freshwater supply and filtering to enable owners to enjoy true soft-road adventuring.
"Dealer reception of the all-new Lance Enduro adventure trailer could not have been better!" states Bob Rogers, Director of Marketing for Lance Camper. "We also asked for and received some great suggestions for fine-tuning the option packages and confirmation that we have got it right, with nearly 100% of our dealers in attendance simply asking when they can get it."
Midwest Automotive Design and American Coach showcased an updated version of its lithium Freedom package, which offers a significantly increased amount of power of up to 1080 amp hours. This new system includes a Nations-brand engine driver secondary alternator that can completely charge the system in approximately three hours and allow for up to 14 hours of dry camping between charges depending on conditions.
Another Midwest Automotive Design highlight was an updated version of its American Coach Patriot® business class limo, which keeps productivity in high gear on the road thanks to accessories and amenities like sumptuous leather reclining chairs, exquisite wood tables, access to Wi-Fi, iPad controls, premium sound system and TV monitor.
For more information on 2023 models, visit the American Coach, Fleetwood RV, Holiday Rambler, Renegade RV, Midwest Automotive Designs, and Lance Camper websites.
###
About REV Recreation Group
REV Recreation Group includes subsidiaries of REV Group, Inc. that manufacture a diverse range of recreational vehicles as well as molded fiberglass and lamination. In addition to a genuine parts online warehouse, the segment operates two state-of-the-art service and repair centers.  From Lancaster, California to Bristol, Indiana, REV Recreation Group companies span the United States and produce Class B custom sprinter vans, high-end Class C/Super C motorhomes, luxury Class A motor coaches, travel trailers and truck campers. With one of the industry's best and longest-standing distribution networks, the segment boasts some of the industry's most recognized and iconic brand names such as American Coach® and Fleetwood RV®.
About REV Group, Inc.
REV Group companies are leading designers and manufacturers of specialty vehicles and related aftermarket parts and services, which serve a diversified customer base, primarily in the United States, through three segments: Fire & Emergency, Commercial, and Recreation. They provide customized vehicle solutions for applications, including essential needs for public services (ambulances, fire apparatus, school buses, and transit buses), commercial infrastructure (terminal trucks and industrial sweepers), and consumer leisure (recreational vehicles). REV Group's diverse portfolio is made up of well-established principal vehicle brands, including many of the most recognizable names within their industry. Several of REV Group's brands pioneered their specialty vehicle product categories and date back more than 50 years. REV Group trades on the NYSE under the symbol REVG. Investors-REVG