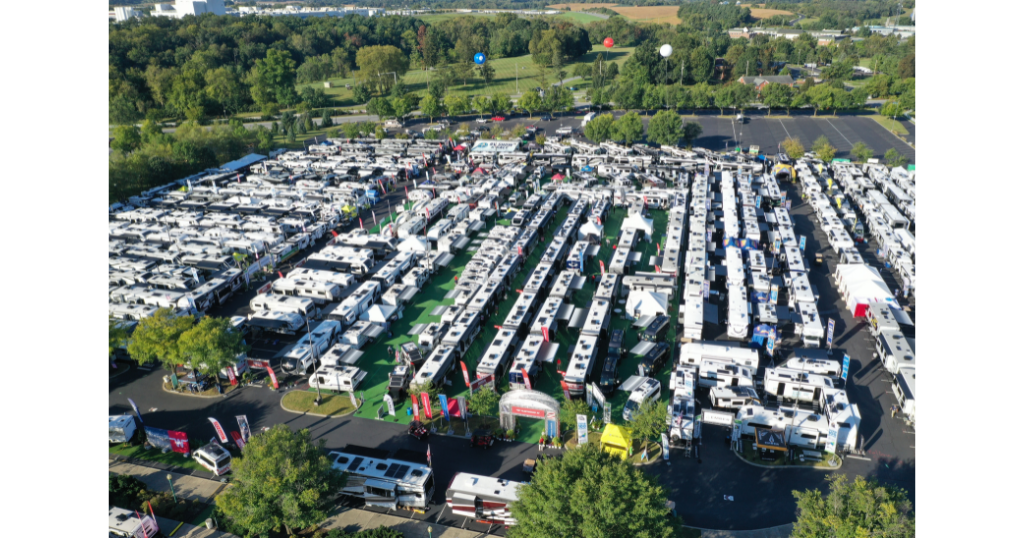 BROOKFIELD, Wis – September 25, 2023 – REV Recreation Group announces strong show results at America's Largest RV Show in Hershey, Pennsylvania. From September 13 – 17, 2023, customers were able to order and purchase new units from brands including Fleetwood RV®, Holiday Rambler®, American Coach®, Renegade RV™, Midwest Automotive Designs™, and Lance®.
"We had an excellent show at Hershey. The teams reported positive consumer feedback for our new floorplans and innovation across the brands," said Mike Lanciotti, president, REV Recreation Group. "Hershey is a great lead into Open House in Elkhart. We're looking forward to sitting down with our dealers and discuss how to keep the momentum strong."
Renegade RV
The pioneer brand in Super Cs increased its sales by more than 70% from last year's show. Most popular models included the Vienna®, Valencia®, Verona®, and Explorer®.  Buyers were split 50/50 between first-time Renegade customers and current Renegade owners looking to trade up. Attendees reacted well to improved safety features such as the lane departure and collision mitigation on the Freightliner® chassis.
Lance Camper
Overall, interest in truck campers was strong, as was interest in Lance's trailer line. The new off-road Enduro™ trailer was displayed for the first time at a traditional RV show in the East and received a lot of interest. Positive consumer feedback indicated the number of people planning on purchasing in the future has returned to pre-pandemic levels.
Fleetwood RV, Holiday Rambler, and American Coach
Fleetwood's Class A Gas models performed very well, including the Bounder® as well as the Fortis® 36Y featuring the exclusive Kid Kave™ which received a lot of attention. Overall, Fleetwood had higher sales than last year, from a mix of first-time buyers and RV owners trading up.
Midwest Automotive Designs
Class B luxury sprinter van manufacturer Midwest Automotive Designs, had its second best-ever Hershey show, selling 15 models in total during the show.
For more information on 2024 models, visit American Coach, Fleetwood RV, Holiday Rambler, Renegade RV, Midwest Automotive Designs, and Lance Camper.
###
About REV Recreation Group
REV Recreation Group includes subsidiaries of REV Group, Inc. that manufacture a diverse range of recreational vehicles as well as molded fiberglass and lamination. In addition to a genuine parts online warehouse, the segment operates two state-of-the-art service and repair centers.  From Lancaster, California to Bristol, Indiana, REV Recreation Group companies span the United States and produce Class B custom sprinter vans, high-end Class C/Super C motorhomes, luxury Class A motor coaches, travel trailers and truck campers. With one of the industry's best and longest-standing distribution networks, the segment boasts some of the industry's most recognized and iconic brand names such as American Coach® and Fleetwood RV®.
About REV Group, Inc.
REV Group companies are leading designers and manufacturers of specialty vehicles and related aftermarket parts and services, which serve a diversified customer base, primarily in the United States, through three segments: Fire & Emergency, Commercial, and Recreation. They provide customized vehicle solutions for applications, including essential needs for public services (ambulances, fire apparatus, school buses, and transit buses), commercial infrastructure (terminal trucks and industrial sweepers), and consumer leisure (recreational vehicles). REV Group's diverse portfolio is made up of well-established principal vehicle brands, including many of the most recognizable names within their industry. Several of REV Group's brands pioneered their specialty vehicle product categories and date back more than 50 years. REV Group trades on the NYSE under the symbol REVG. Investors-REVG
Press Contact:
Julie Nuernberg | Sr. Dr. Marketing & Communications
REV Group
245 South Executive Drive
Brookfield, WI 53005
+1.262.389.8620