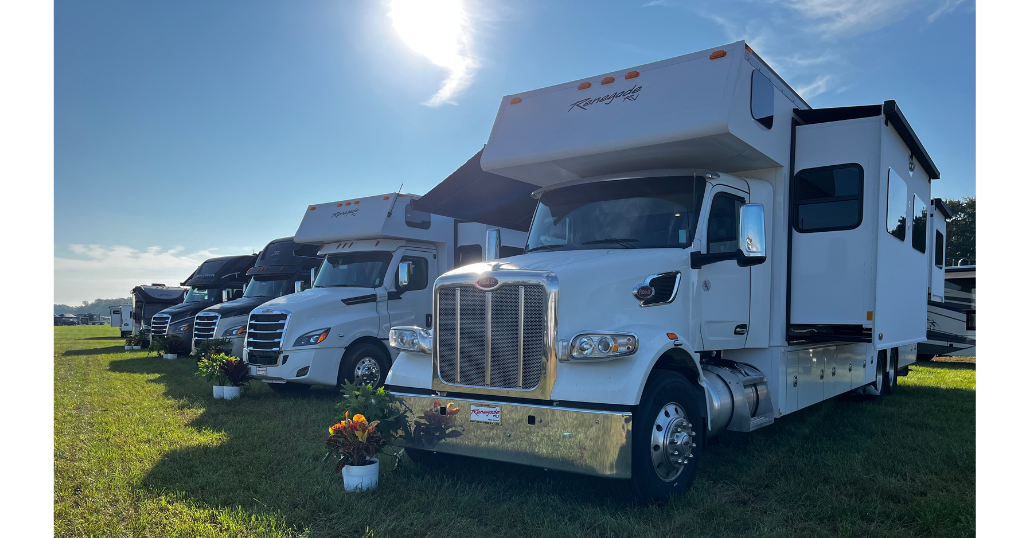 BROOKFIELD, Wis – Sept. 25, 2023 – REV Recreation Group will once again highlight a number of new models, modern floorplans and innovative coach features across its Fleetwood RV®, Holiday Rambler®, American Coach®, Renegade RV™, Midwest Automotive Designs™, and Lance® brands at the Elkhart RV Dealer Open House from September 25-27, 2023.
"REV Recreation Group has a fantastic line-up for 2024," said Mike Lanciotti, president of REV Recreation Group. "There is something for every dealer, for each consumer – whether the customer wants to boondock in the desert or wants to travel in luxury from the North to South each winter – we've got an RV to fit their needs. We're looking forward to planning for the year ahead with our dealers and supporting them with the product their customers are demanding."
Fleetwood Family of Brands
American Coach American Dream® 45P: Designed with full-time RVers in mind, the American Dream 45P offers an incredibly spacious layout and luxurious amenities, including both a full and a half bath – making the space ideal for entertaining, lingering, and living RV life to the fullest. With residential-style premium kitchen amenities, large wardrobes, a wine chiller, cozy fireplace and other high-end features, the American Dream 45P lets luxury RVers live their best life.
Fleetwood RV Fortis 36Y and Holiday Rambler Invicta 36Y: Both the 2024 Fortis 36Y and Invicta 36Y set the new standard when it comes to family-friendly, thanks to the Kid Kave™, a unique feature that creates a fun hideaway at the rear of the coach. The Kid Kave provides children a perfectly cozy nook for hanging out, having slumber parties, and making memories. Featuring a balcony loft with a wardrobe and ample storage underneath, the Kid Kave also comes equipped with a jackknife sofa, additional wardrobe, swing LED TV and dedicated half-bathroom – helping make it a fun-filled retreat for kids of all ages. The living area also features well-appointed galley and family friendly seating. Outside you will find an exterior kitchenette with griddle and refrigerator.
Lance Camper
Lance will be providing dealers with a first-look experience and collecting feedback on an expansion of their travel trailer offering. They are resurrecting a past brand segment used previously in their truck camper line titled "Squire-By Lance". The new Squire line of trailers will boast the quality construction Lance fans are used to, with features, appointments, and a price tag more accessible to a wider range of consumers.
Lance's Enduro™ Adventure off-road trailer line has expanded to include an inside kitchen model for those who don't like to cook outside in chillier weather. Both the 1200IK and 1200EK have an off-road independent suspension and can be towed by anything with a 4,500-pound tow capacity. The floorplan is a side kitchen with a front bedroom/dinette. A maneuverable Lagun swivel table can be used as a workstation or lounge area. The dinette converts into a bed.
Lance will also launch Mini Enduro™ at Open House. The trailer has many similar features as the larger floorplans, but in a more compact and lighter package. Features include an adjustable bed that turns into a sofa for an inside seating area and a porta potty. The exterior includes a portable kitchen, a pull-out Truma cooler refrigerator, and shower facilities. Versatile storage is provided by a 52"x54" Morryde roll out storage tray, which is accessible from the interior or exterior of the trailer.
Two flagship Lance-branded travel trailers will debut at Elkhart, including the 25-foot Lance 2565, the largest traditional travel trailer the company has built, centered around massive La-Z-Boy-style chairs. Additionally, a new 22-foot floorplan, Lance 2255, will be intriguing to those who highly value a spacious bathroom experience, as it features a wall-to-wall rear bath.
The 58-year-old truck camper manufacturer is also offering a first look at a new truck camper, the model 805. A lightweight full-size non-slide camper with an east-to-west bed targets the ½-ton truck market. This lightweight option will be an excellent solution for those wanting to go off-road, overland, tow, and achieve versatile travel on their ½-ton truck. Not at the show, but soon to follow, the 805 will have a smaller version of this floorplan released for mid-size trucks such as the Tacoma, Ranger, Frontier, etc.
Midwest Automotive Designs
Midwest Automotive Designs' Passage®, built on a Mercedes-Benz Sprinter chassis, features an upgraded kitchen galley with a stainless steel, deep-bowl sink, dual-burner induction cooktop, and drawers with dovetail construction and soft close. The quiet and efficient air conditioner is a15,000 BTU unit, able to blow air 25 degrees cooler than outside. The heating system provides hot water and heats the motorhome. The continuous hot water system means there is no limit on how much water can be heated. When the Passage is on the road, it uses the vehicle's coolant system to pull heat for the cabin. In addition, the Passage has versatile lighting and a new Alpine sound system.
Renegade RV
The 2024 Renegade XL™ Super C motorhomes come in four models – the 43DB, 45DBM and 45QS sleep four with east-to-west king beds. The 45QS is a couple's coach with an expanded cedar wardrobe, full vanity, and stacked washer-dryer. The 45BBC family bunk house sleeps seven and has two full baths and a larger kitchen. All floorplans include four slides. The Samsung Bespoke Family Hub Plus smart fridge features a 21-inch HD touchscreen, to watch TV, stream, and see what's in the fridge remotely.  The XL's structure combines adjoining compartments underneath to create a double-wide passthrough, providing longitudinal storage for longer items such as tables, skis and fishing poles. The GVWR sits at 58,000 pounds and the XL models have a 30,000-pound hitch capacity.
For more information on 2024 models, visit American Coach, Fleetwood RV, Holiday Rambler, Renegade RV, Midwest Automotive Designs, and Lance Camper or stop by the Elkhart RV Dealer Open House at Elkhart East Corporate Park on Executive Drive, Elkhart, Indiana.
###
About REV Recreation Group
REV Recreation Group includes subsidiaries of REV Group, Inc. that manufacture a diverse range of recreational vehicles as well as molded fiberglass and lamination. In addition to a genuine parts online warehouse, the segment operates two state-of-the-art service and repair centers.  From Lancaster, California to Bristol, Indiana, REV Recreation Group companies span the United States and produce Class B custom sprinter vans, high-end Class C/Super C motorhomes, luxury Class A motor coaches, travel trailers and truck campers. With one of the industry's best and longest-standing distribution networks, the segment boasts some of the industry's most recognized and iconic brand names such as American Coach® and Fleetwood RV®.
About REV Group, Inc.
REV Group companies are leading designers and manufacturers of specialty vehicles and related aftermarket parts and services, which serve a diversified customer base, primarily in the United States, through three segments: Fire & Emergency, Commercial, and Recreation. They provide customized vehicle solutions for applications, including essential needs for public services (ambulances, fire apparatus, school buses, and transit buses), commercial infrastructure (terminal trucks and industrial sweepers), and consumer leisure (recreational vehicles). REV Group's diverse portfolio is made up of well-established principal vehicle brands, including many of the most recognizable names within their industry. Several of REV Group's brands pioneered their specialty vehicle product categories and date back more than 50 years. REV Group trades on the NYSE under the symbol REVG. Investors-REVG
Press Contact:
Julie Nuernberg | Sr. Dr. Marketing & Communications
REV Group
245 South Executive Drive
Brookfield, WI 53005
+1.262.389.8620